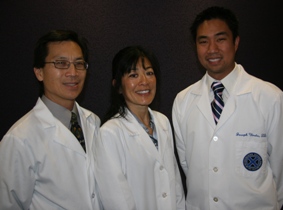 Nelson Pai DDS & Susan Ishioka DDS MS, Inc., along with Dr. Robert "Joe" Virata DDS, strive to provide each patient with the finest dental care in a professional environment that inspires trust and confidence. It is our mission to help our patients achieve the highest level of oral health possible, and to treat our patient's needs with the highest levels of care, skill, and comfort. We recognize our responsibility to maintain a safe and healthy environment for our patients and ourselves, and hope to enhance the lives of all those we touch.

We will be committed to excellence in all of our services to our patients while charging fees that are fair and reflect the care and expertise with which we treat each patient.
We encourage open channels of communication and the sharing of ideas, opinions, and feelings in order to maintain office harmony and teamwork. In short, our patients and staff are our "dental family" and we aspire to live up to the high expectations our patients have become accustomed to and deserve.
---
5122 Katella Ave.
Suite 112
Los Alamitos, CA 90720
562-493-2807